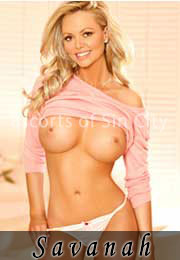 A Great Adventure For The Two Of Us
Warm day to you! Good to know that you visit our website. This will give you hope in obtaining an engaging and an intimate life as you visit Las Vegas City. Escort girls are responsible of giving that kind of leisure. But not all of them have the ability of giving you full satisfaction that you needed. There are only few of them who can make you feel that way. And I, Savanah am one among that few escort girls. So do not just let me pass by in your hand without experiencing the sensuality of my whole being.
My skin complexion makes me different with other escort girls out there. I have stunning beauty that you will surely love. Staring at me is like craving chocolates, waiting to be eaten. I have sweet and adorable personality that every man would love to be with. My sweetness can melt even the hardest heart of a man. I have slim and astounding body with softness all around it waiting for you to touch it. It will be a great pleasure wrapping you around my long legs for the rest of the night. There is nothing to ashamed of this will be a great venture for the two of us. Let us make the night full of magic and fun. Allow me to know your need and your wildest dream that I will make it into a reality. There is nothing to be disappointed because I will handle everything with passion and caress. Do not be deceived with the sweetness of my face. There is wild and thrilling side of me that is hidden. Unveil it now to make you experience how wild I can be to you. All I want to do is to show off my striking body.

I will always look best under the tenderness of your arm as you show me off around the Strip. I will take you to the best clubs ever found in this place to see how I dance. Behind these doors is the start of heating up of our bodies. This experience will explain to you why Las Vegas is a Sin City. I will be your ultimate and extreme sensuous treat who will rock your world by the way I do the escort servicing.
Aside from being sensually provocative, I can be your great companion in whatever place you want to visit in this city. I am updated with the current things that are happening in this world. We can have a valuable conversation together. My sociable personality will make you feel comfortable to be with me. Although I am wild, I am also classy and discreet of the situation demands it. I can adjust to whatever place you are going to take me. I can be your personal secretary in your business meeting.
I will make your stay in Las Vegas very remarkable. You will not dare to leave this place without experiencing my escort servicing. Book now and Call Me.