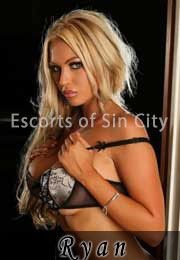 My Moves Will Blow You Away
Hi guys! It is good to know that you visited my website. This is a great way of knowing what awaits you in the Sin City which is Las Vegas. I am Ryan, an escort girl with perfect body figure. I am longing to see and mingle a gorgeous man like you. I have long straight blonde hair, mesmerizing eyes with beautiful lashes and with oozing sex appeal. You will get captivated by my angelic wonderful looks and flirty personality. No man would dare to resist my inducing appeal. Every man that comes with me is fully delighted with everything they got from me.
You may also take me to casino where I can be your luckiest charm. There is nothing off in the table with me. Las Vegas will be the perfect place to be explored if you have in your side. All your desire will be granted immediately by me. You will be treated like a royal king. With my personality it will be easy for you to get comforted with me. We can make wonderful conversations even sharing your personal life without any hesitations. I assure you of complete trust and confidentiality. But one thing that you cannot keep as a secret is your great moment with me. You will be comforted with so much ease as travel around the city. We can joyfully visit different sceneries in this place and together eat the delicious food that this place can offer. There is nothing to worry about the itineraries; let me take charge of it. I am fully equipped with the different destinations in this City. I can give an amazing time of togetherness letting you forget the stress and pressures of life. It's my passion of spending time with men. With them I can find sense of belongingness and I appreciate the value of being a man. That is why I am giving the best that I can just to give them the quality of enjoyment that they deserve.
My flawless and beautiful body is surely ready to dance for you. I will be your sparkling and endearing private stripper that you have been looking for. We are going to take the Sin City in storm. My seductive moves will blow you Away. Then after my dance, maybe I can sooth your sore muscles with a relaxing massage. I get even get crazy and give you a massage naked. Have you heard of a nuru massage? I can definatly hook you up.
With me at your side, you will not worry about the hassles of life. I want to be your greatest asset in life. A day with me can make you forget about the things that made you down. Allow me to take your stress away. I am an awesome escort and fantastic companion. I offer more fun and excitement that a mere therapy. The ultimate pleasure is waiting for you to take. It is just a phone call away or simply clicking my name. Book me now that I may give you the kind of life that you ever wanted.