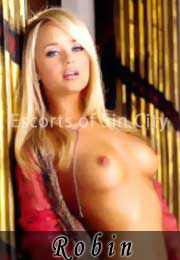 I Hope You Enjoy My Company
Great things await you by the time you visit this website. This will take you to another level of imagination. Your imagination will turn into reality if you wanted to. Great things are best experience if you have them in your hand. To achieve that in Las Vegas, the Sin City, take an escort girl to make you feel that way. And I am that escort girl who can suffice all the things you needed as you stay in the Sin City. I am Robin, the one who will give you great things in life. I take pleasure in making my body fit and tight so that you can enjoy the delightful things I will give you.
I am doing my best to make sure that my escort servicing is fully satisfying. My smooth skin and adoring kiss is longing to be touched. The strands of my hair are fragrantly aromatic as your hands run through with it. Yoga and Pilates keep flexible, treadmill and limber that makes me ready in keeping at pace in wildest partiers found in this Sin City.
My escort servicing entails satisfaction, pleasure and thrill. I love adventures that take me to different places in Vegas. That is why I know every place that this city have. You count on me if you wanted to make an errand to the tourist spots of this place. I can take you also to historical places that can add to your stocked knowledge. We may eat with the finest restaurants that this city can offer to all the people. And the most thrilling part is captivating your craving body in the most romantic hotel. This will end your search in finding pleasure and satisfying your hungers for an intimate night. You will find me special by the time I give you a private dance show.
But I have so much more to offer aside from just watching my fascinating body. You can indulge with me by having me give you an incredible nuru massage. Everything will be done with so much passion and caress that you do not want to miss any moment of our togetherness. This will make a mark in your life. No need to think twice if you do not want to regret it for the rest of your life.
I will make sure that you will receive the best things while you are in this City. It is my joy of giving pleasure in sharing the secrets that you can find in this place. I will accompany you wherever you wanted to go. Everything will sound good if you have me as you visit in this place. I will make every wish of yours come true. Book me and make a date for me that you may able to experience great things in the great city of Las Vegas. There is nothing more to look for, everything you needed is packed with me.