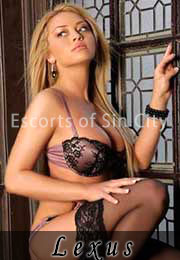 You Will Enjoy Every Second With Me
I am glad that you have found my page! My name is Lexus and I work as an escort girl in Las Vegas. My beauty is really unique and I have the qualities of an escort that will make you contact and come to me. I am very careful in taking care of myself in order for my clients to enjoy their stay with me.
To describe myself, I am a girl with long hair and head turning white skin. I have attractive eyes that will surely re-fire your desires. My lips are inviting especially whenever I talk and smile because people say that I become more beautiful whenever I do those things. Most of all, I have an amazing shape of body, thus you will find it hard to control drooling. But of course, I'm willing to let you look at me. I might even give you a private strip tease.
There are so many things in this world that really makes a man happy and one of those can be found from escort girls like me. We are the kind of girls that have the capacity to lead men into their manly desires. We never let our customers be worried about the services we are supposed to give because we leave them satisfied with our services. At the same time, we make sure that not only our customers are well satisfied with our services but also ourselves. This is basically what separates us from cheap girls. We enjoy and live the moment when we are with our customers. That is why we can really provide the best services because we are also enjoying our time with you and every customer we have.
Despite of what judgmental people say to us, we are still inspired of continuing our goal which is to give entertainment to every man who wants to be with us. I do not hesitate with the needs of the client. I give in to those needs so that they will be entertained and I may leave a satisfying feeling to each of them. I always have the courage to pursue my goal of making men happy beside me. I and other escorts girls are always united in one goal and that is to give happiness even just for a short period of time.
If you are also looking for an escort girl in Las Vegas, always look for the reliable one and I assure you that is me. I have everything you want for an escort girl. My experiences are enough proof that I can be the one you are looking for your nights in the city that never sleeps. Anyway, I am very easy to call or email. I have an active email account and contact number that you can always consider to alternately use. Do not be hesitant in looking for me especially when you are in Las Vegas because I am here for you, to make each and every night the best night of your life.