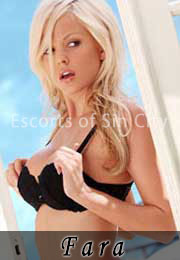 You Can Rely On Me For Anything
Hi there! What a great pleasure for you to check out this website. I am Fara, your escort girl who will give you an amazing date here in Las Vegas. I have kissable and curvaceous body that will instantly excite and arouse you. I am sweaty, steamy and hot where clothing is an option. Every day you spent with me is a day full of Sin City love. My well figured body is pleading to be watched. I am affable with great sense of humour. I love turning fantasies into realities; whatever you are dreaming about just tell and I will give it to you with guaranteed satisfaction. My full and pouty lips love to mingle with other lips. Just tell me what you want and I will give it to you extremely.
I maintain the beauty of my body through exercising regularly and eating right kind of foods. I do not want to be a disappointed with my customer that is why I take extra care for my perfect body figure. I am also an educated escort girl so you can take even me in social gatherings. You will never be ashamed taking me that kind of event. Instead, you will be a head turner because of the stunning beauty beside you. I may also be your guide in looking for a place where you wanted to go. With my long time stay here in Las Vegas, I am pretty sure that I can take you to right places. If you want somebody to talk with, you can rely on me. If you love to dance I can hang you over with the best disco in Las Vegas. We can dance together as long as you wanted. I can also go with you in cinemas if you wanted to watch movies.
Aside from being your companion in the places you wanted to be, my specialization is in giving pleasure to every man I date with. By simply looking at my seductive beauty, you will know what kind of pleasure you are in. I will deliver the pleasure that you have not experienced before. Sweating you up is a great excitement with me. I take clothing as an option especially if you are longing to have a wild experience. With my steamy body everything is just a slide, my nuru massages are unforgettable. There is no dullness with me because everything is extreme.
I am not only intelligent and expert massage therapist; I also have sparkling personality that can dazzle every man's heart. I am giving a hundred percent satisfaction in escort servicing. Because I just only want to give the best things that you can have in your life. Let us live life to the fullest as we together take each other's arm in the Sin City- Las Vegas.