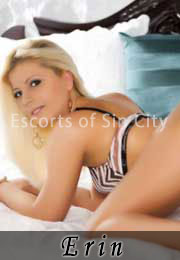 You Will Never Regret Choosing Me
Sizzling day to you! It's a great pleasure that you click on this website. This will be the start of your sizzling getaway in the Sin City - Las Vegas. I am Erin, your fiery escort girl who will make your stay in this city hotter and hotter. I am a very well-spoken woman with grace and class side especially in a social situation. I also gained education and knowledgeable enough of the places in Las Vegas. Also, I am up to date with the news around so you can make a valuable conversation with me. And the most exciting and interesting about me is being wild when the situation demands it. I am more than ready of giving you intimate heat if your body longs for it. That is my specialty in giving escort servicing with every man who comes with me. Do not just think about me; make me a reality of your wildest dream.
With me, you will experience a royal treatment that you truly deserve. I can take you to the hottest clubs of the city where all men will envy you because of the undivided affections and attention that I will give to you. And also with my striking beauty, gorgeous body and the best of all my desirable sex appeal. You will mouth-water watching my sexy body dance as the music starts to play. I may dance for you or you may dance with me, whatever it may be I promise you of finding my body so hypnotic. This will just be the warming up of our hot and sizzling experience.
By the time we are in the more intimate set-up we can now turn the heat up and letting the things start to burn. As I sway my body on the club's dance floor, you will really find me so much more exciting. I can show you all my hidden skills and expertise. You will surely enjoy my company. There is nothing for more to look forward after we had this intimate night. I will also teach you how to dance. Sizzling night awaits you as you take me in as your personal escort girl. You will never regret choosing me.
If you were asked by somebody about how is your trip in the Sin City, you will surely tell them that it is HOT, whatever the weather maybe. That can only happen if you take me to be your escort girl in the Sin City. So why not start booking me now? Just click on my name on this website and set the date for your most memorable experience in life. You will surely sizzle and dazzle as my gorgeous body touches yours.