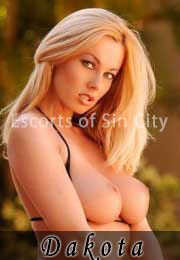 I Have Charm And Grace
This will be an exciting day to you. For simply logging on to this website, you are starting to unveil the excitement that you are about to experience. To start it off, let me first introduce myself. I am Dakota an escort girl with wit and beauty. I am the way of receiving the ultimate Las Vegas experience. My sophistication coupled with natural curves is especially made for your manly satisfaction. Your dreams can really come true and that will be a delight in making sure that it does. My delicious long legs, smooth auburn hair and naturally beautiful face will surely captivate you. I have bulging body parts that are sensually soft to touch, the same with my whole body that is toned but very feminine.
My natural sensuality is paired with magnetism. That is why there are so many men who are extremely attracted with me. I have charm and grace that makes you feel so comfortable being with me. I will extend my loving arms to unwind and relax you as long as you are in this Sin City. There is nothing to be wasted as long as you are with me. I do not welcome dull moments. My pleasure is to give you the satisfaction that you ever wanted in a woman. I like playing and I do not like rushing things out. It is best to enjoy it little by little. But when I start making my playful moves you would not dare stopping it. Excitement truly awaits you as you checked me in your hotel for a private stripper show or massage. That is the best escapade you can ever have in this City. Every moment with me must be savoured to achieve full satisfaction. My live stripping show will make the night more exciting and intimate. Your experience with me will make you feel like never leaving the city.
We are going to enjoy an intimate and satisfying experience together while exploring Las Vegas. You will never feel guilty to have me as your escort girl. All I ever wanted is to make every man happy in my services. That is why I became a sought after escort girl in this place. With me, being a discreet, playful companion and sophisticated escort girl, you do not have reason to look further. You will cherish everything that this Sin City can offer to you in creating unforgettable adventure. And I am so much ready to give you that. There is nothing more and nothing less, only sufficient in giving you the best things in Las Vegas City.
To experience my sophistication, book me now. Pick my name in this website and you will eventually unveil the excitement that this city gives to you. And be ready for one of a kind escapade in the Sin City. Do not think twice but be firm in making me your best escort girl in town.